What is the CISA exam? If you're wondering whether the CISA (Certified Information System Auditor) certification is right for your career, then read on as this article provides comprehensive answers to your CISA related questions.
My Opinion
Is CISA a good certification? Absolutely yes, earning a CISA certification is well worth it.
It's also a great way to boost your resume and increase your chances of landing a job. This is especially true if you're interested in pursuing a career in IT auditing or security auditing.
Becoming a CISA Auditor can open up career opportunities for you while giving you the distinction of being globally recognized, trusted, and respected in your field. Just to give you an idea of its popularity, it's the 3rd most requested security certification in the industry.
However, like any other security certification, passing and renewing the CISA certification requires money, time, and most importantly, effort!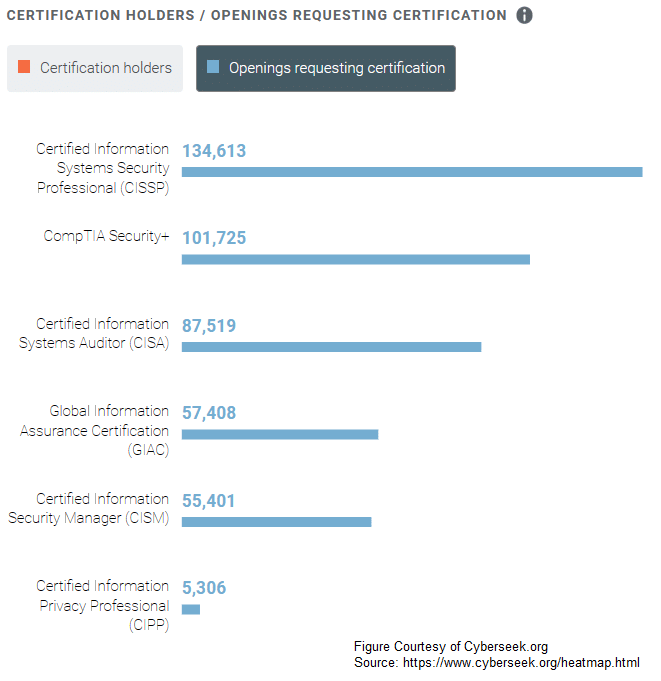 Table of Contents
Want to know what is the CISA exam? Click below to find out more!
What Is the Certified Information System Auditor Exam?
What Does It Mean to Be a Certified Information System Auditor?
CISA Certification Requirements
How Many Questions Is the CISA Exam?
How Much Is CISA Certification?
What Is the Certified Information System Auditor Exam?
The certified information system auditor exam is a certification offered by the International Society for Advancement of Cybersecurity (ISACA) and accredited by the American National Standards Institute (ANSI), which is a third-party entity responsible for the accreditation of the CISA designation and verification of the standards of this certification.
The CISA certification is a professional credential awarded after passing a rigorous examination certifying that an individual possesses the knowledge, skills, and abilities necessary to perform audits of IT systems and processes.
To give you a bit of background on the CISA certification, there are over 151,000 CISA certificate holders globally earning an average salary of over $110,000.
The CISA credential also serves as a foundation for other certifications such as the Certified Security Manager (CSM), Certified Ethical Hacker (CEH), and Certified Penetration Tester (CPENT).
A CISA certification acknowledges that an individual has met certain requirements for demonstrating competency in information security management.
These requirements include knowledge of information security policies, processes, procedures, and standards, as well as understanding of the organization's mission, vision, values, goals, and objectives.
The core purpose of this certification is to provide individuals, who manage or support information security programs within organizations, with the skills necessary to identify and mitigate risks associated with the implementation and operation of information systems.
What Does It Mean to Be a Certified Information System Auditor?
Certified Information Systems Auditors are professionals who perform security audits of computer systems and networks.
Certified Information Systems Auditors are responsible for ensuring that their organization's security posture is robust enough to protect against cyber threats.
They have the ability to identify vulnerabilities in critical organizational network infrastructures and the skills to implement appropriate security countermeasures.
In addition, they can help prevent data breaches through effective monitoring and detection of suspicious activities.
CISA Certification Benefits
You'll be able to offer valuable services to companies and organizations that want to protect their networks from cyber threats.
You'll also have access to resources that can help you stay current with industry trends and best security practices.
Of course, by becoming a Certified Information Systems Auditor you'll help to advance your own career and earn a higher pay.
In addition to the above, there are several other benefits of becoming CISA certified, which include:
Recognition from peers and employers that you possess the knowledge and skills necessary to perform your job function
A competitive edge over other candidates seeking employment in the field
An opportunity to advance your career through additional education and certification
Increased salary potential and job opportunities
High job security and career advancement opportunities
How Much Does a CISA Make?
CISA Certification is among some of the most high-paying IT certifications.
Earning the certification can help you secure high-paying jobs such as:
Internal Auditor
Public Accounting Auditor
Information Systems Analyst
IT Audit Manager
Project Manager
IT Security Officer
The average CISA salary can depend on several factors, such as experience, job title, location, employer size, and the responsibilities of the position.
According to Payscale, the annual base salary of a senior IT Auditor ranges between $70,000 and $112,000.
CISA Certification Requirements
CISA certification requires 5 years of experience as an auditor, controller, or security specialist.
Experience must include at least one year of Information Systems (IS) experience.
A maximum of 3 years of experience may be waived if the applicant has a master's degree in IS or IT.
Candidates can also download a CISA exam guide to learn more about the eligibility and the exam process.
CISA Exam Domains
The CISA Certification exam is designed to help IT & Cyber professionals gain a deeper understanding of their role as a CISA.
Additionally, you'll learn about best practices for conducting effective audits.
CISA certification is awarded to candidates with at least five years of relevant work experience and who pass the examination based on five knowledge domains. Read here to find out the truth behind cybersecurity domains!
Should you decide to take this exam, demonstrate your ability to identify risks and vulnerabilities in an organization's information systems.
Furthermore, each domain of the CISA exam has a specific exam weight that is listed below:
| | |
| --- | --- |
| DOMAINS OF THE CISA | % of Exams |
| Domain 1: Information System Auditing Process | 21% |
| Domain 2: Governance and Management of IT | 17% |
| Domain 3: Information Systems Acquisition, Development and Implementation | 12% |
| Domain 4: Information Systems Operations and Business Resilience | 23% |
| Domain 5: Protection of Information Assets | 27% |
Domain 1 – The Process of Audit
The first domain tests your ability to identify the purpose of an audit.
This means understanding and recognizing the differences between internal and external audits.
You are tested on your understanding of the various types of audits including financial, operational, compliance, risk management, and strategic.
Domain 2 – Governance and Management of Information Technology
The second domain tests your understanding of how information technology (IT) governance affects the organization's overall success.
You need to know what roles are involved in IT governance and how they interact with each other.
Furthermore, you should also know how IT governance impacts the business processes and operations of the organization.
Domain 3 – Information Systems Acquisition, Development & Implementation
In this third domain, you will learn about the acquisition, development, implementation, and maintenance of information systems.
You'll be tested on the entire lifecycle of an information system.
This also includes knowing the role of stakeholders through the lifecycle and the importance of planning and budgeting.
Domain 4 – Information Systems Operations
The fourth domain is about information systems operations, maintenance and support.
Candidates are expected to have knowledge of the following topics:
Maintenance and support operations
Software applications
System administration
Networking
Domain 5 – Protection of Information Assets
Finally, the fifth domain assesses the ability to protect sensitive data from unauthorized access, use, disclosure, modification, destruction, or loss.
This includes identifying risks associated with the handling of confidential information, and the ability to prevent, detect, respond to, and recover from security incidents.
How Many Questions Is the CISA Exam?
Available in eleven languages, the CISA exam lasts four hours and consists of 150 multiple-choice questions.
The exam scores on a scale between 200 and 800, and candidates must score a minimum 450 to pass the exam.
When preparing for the CISA Exam, you should get a feel for the type of questions the CISA exam asks. Though it's not much, ISACA has provided a practice quiz.
For more practice, you can check out ITExamable's free CISA tests which contain 30 CISA tests, each with 30 questions, and a 150-question mock test.
How Much Is CISA Certification?
The CISA exam costs $575 for ISACA members and $760 for everyone else; this doesn't include the $50 application fee.
Unfortunately, there are also ongoing maintenance costs associated with a CISA certification.
The certification maintenance cost ranges from $45 for ISACA members to $85 non-ISACA members annually; however, there's more.
A certification holder must also acquire a minimum amount of 20 hours of continuing professional education (CPE) credits per year and 120 hours every three years in order to retain the CISA certification.
ISACA offers various conferences and training sessions throughout the year allowing you to accumulate CPE's; unfortunately, unless your company is paying for these events, it can get quite expensive.
ISACA conferences alone cost a few hundred dollars, while signing up for a training session can set you back several thousand dollars!
So, the best and cheapest way to maintain your CPEs is by attending as many free (or low cost) webinars and training sessions as you can find.
Luckily, ISACA offers up to 72 free CPE hours annually for members.
Interested in More…
The Best Method to Become a Security Auditor!
Why Take the Security+ Certification?
---
If you enjoyed reading today's article please subscribe here.