How many cyber security domains are there? Even though you hear it used all the time, you may be surprised to read that domains aren't set in stone.
The problem is, the list is often organization or agency specific, and no standard definition exists. This article breaks down how others interpret the cyber security domains versus what I believe is the best way!
What Are Cyber Security Domains?
Domains are often associated with government agencies or cyber security credentialing organizations. When someone talks about cyber security domains, what they really mean is the area of cybersecurity that's being referenced.
In other words, a domain is just a fancy way of saying "category" or even cyber security "focus area".
Cyber Security Domains for Certifying Organizations
For certifying organizations, domains (or categories) help test takers understand what topics an exam will cover. Read the list of examples below to get an idea of how each organization classifies their cyber security domains.
Various organizations and frameworks define the domains of cybersecurity differently, but one of the most widely recognized frameworks is that defined by the CISSP certification, created by ISC2. That exam covers the following eight domains:
Security and Risk Management
Asset Security
Security Engineering
Communications and Network Security
Identity and Access Management
Security Assessment and Testing
Security Operations
Software Development Security
If we look at the SSCP certification, also offered by ISC2, there's a list of seven cyber security domains:
Information Security Risk Management Program
Scope of the Information System
Selection and Approval of Security and Privacy Controls
Implementation of Security and Privacy Controls
Assessment/Audit of Security and Privacy Controls
Authorization/Approval of Information System
Continuous Monitoring
The CISA certification, from ISACA, a very common certification for security auditing, shows the following five domains:
Information Systems Auditing Process
Governance and Management of IT
Information Systems Acquisition, Development, and Implementation
Information Systems Operations and Business Resilience
Protection of Information Assets
Interested in learning, The Best Method to Become a Security Auditor?
SANS, creators of the GSEC certification, indicate eight domains:
Active Defense
Cryptography
Defensible Network Architecture
Incident Handling and Response
Linux Security
Security Policy
Web Communication Security
Windows Security
As you can see, different certifying organizations categorize cyber security domains according to the topics covered in their certification exams.
Cybersecurity Focus Areas for Agencies
The US Department of Energy, which helped to develop the Cybersecurity Capability Maturity Model (C2M2) through public and private partnerships, has decided upon the following 10 domains: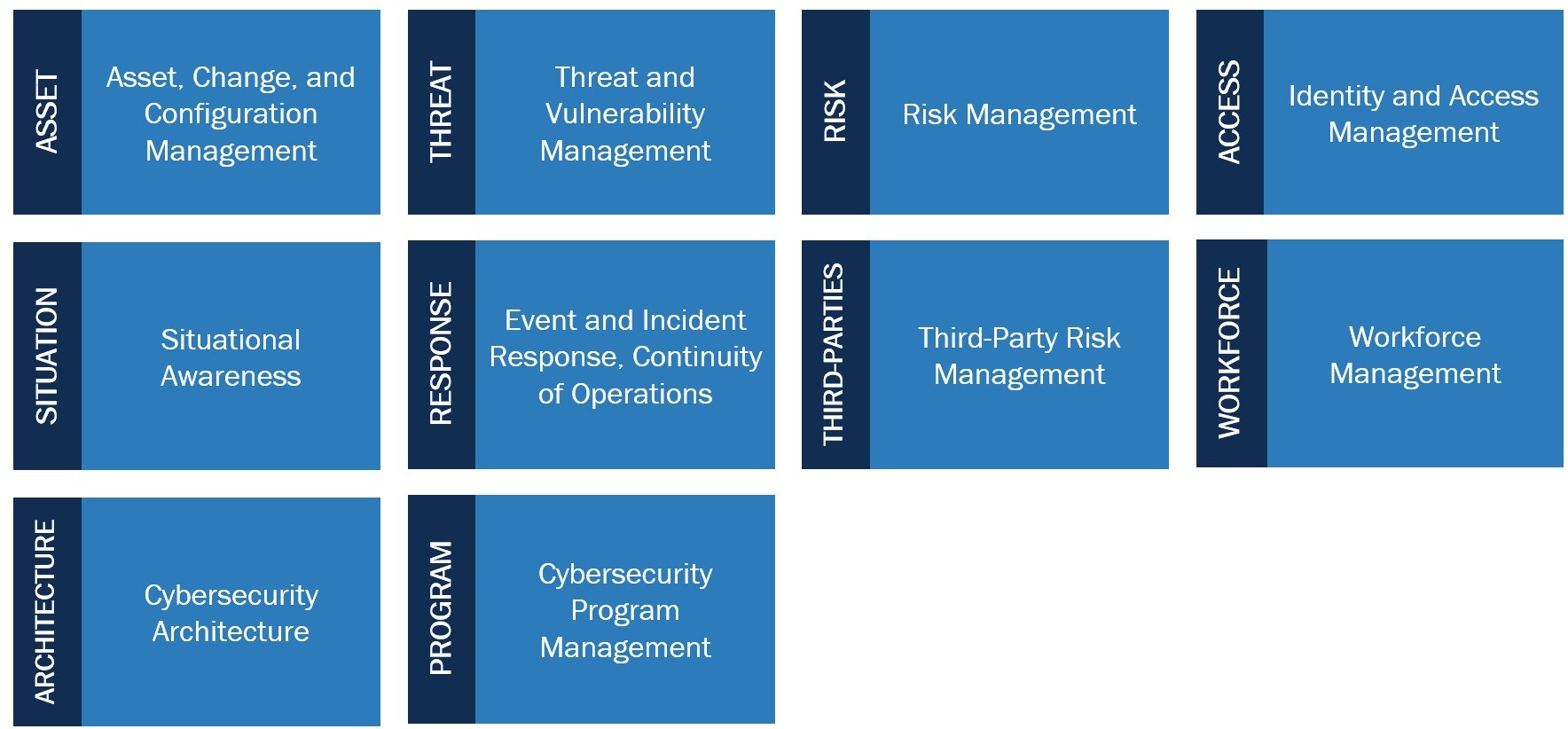 Asset, Change, and Configuration Management (ASSET)
Threat and Vulnerability Management (THREAT)
Risk Management (RISK)
Identity and Access Management (ASSESS)
Situational Awareness (SITUATION)
Event and Incident Response, Continuity of Operations (RESPONSE)
Third-Party Risk Management (THIRD-PARTIES)
Workforce Management (WORKFORCE)
Cybersecurity Architecture (ARCHITECTURE)
Cybersecurity Program Management (PROGRAM)
Surprisingly, even the NIST Cybersecurity Framework covers the following five domains which are the most simplified:
Identify
Protect
Detect
Respond
Recover
Are you starting to get the point yet?
What Are the 11 Domains of Cyber Security?
Let's look at another popular example by Henry Jiang, creator of The Map of Cybersecurity Domains v3.1 and the most vendor neutral of all the examples. His model lists 11 cyber security domains:
Frameworks and Standards
Application Security
Risk Assessment
Enterprise Risk Management
Governance
Threat Intelligence
User Education
Security Operations
Physical Security
Career Development
Security Architecture
And though you may not agree, it does do a better job of capturing a more holistic view of cyber security. A brief description of the 11 domains along with the Tier-1 subdomains are referenced below.
1. Frameworks and Standards
Frameworks are important because they provide a common template from which all others can follow. They help ensure that security teams are able to follow a structured path towards achieving security.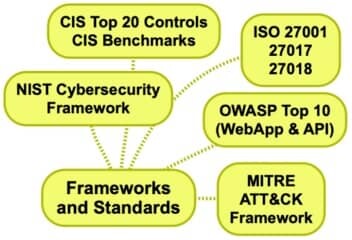 NIST Cybersecurity Framework
CIS Top 20 Controls / CIS Benchmarks
ISO 27001 / 27017 / 27018
OWASP Top 10
MITRE ATT&CK Framework
2. Application Security
As Andreas Happe puts it, application security "includes all tasks that (hopefully) introduce a secure software development life cycle to development teams. Its final goal is to improve security practices and, through that, to find, fix and preferably prevent security issues within applications."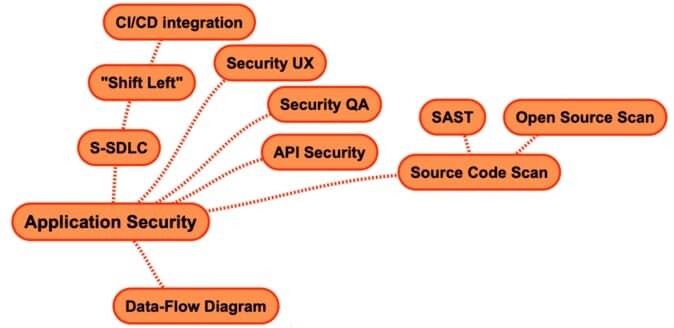 S-SDLC
Security UX
Security QA
API Security
Source Code Scan
Data-Flow Diagram
3. Risk Assessment
Risk assessment is the process of identifying threats and vulnerabilities to an organization and its assets, then assessing the likelihood and impact of these threats to the organization. The assessment is used to determine what security controls are necessary to mitigate the impacts of a potential security incident.
Vulnerability Scan
Assets Inventory
3rd Park Risk
Penetration Test
Risk Monitoring Services
4. Enterprise Risk Management
Enterprise risk management (ERM) is an organizational activity that assesses, monitors, and manages the risks that threaten an entity. ERM is a process, not a product or service. It must be an integral part of the organizational culture to be effective. ERM involves identifying, assessing, mitigating, and monitoring risks to business continuity, reputation and brand value, operations efficiency and long-term viability.
Risk Treatment Actions
Risk Acceptance Statement
Cyber Insurance
Lines of Defense
Risk Register
Risk Appetite
Crisis Management
BCP/DR
5. Governance
Governance is the process of making decisions and implementing security policies. It's about making sure that the right decisions are made at the right time, and that the right policies are in place to mitigate risk more effectively while being cost-effective—and doing so while respecting privacy rights and compliance obligations as well.
Laws and Regulations
Executive Management Involvement
Company Written Policy
6. Threat Intelligence
Threat intelligence is the process of collecting and analyzing data about cyber threats. Used in conjunction with other cybersecurity solutions, threat intelligence can be used to protect against cyber-attacks.
7. User Education
Another key element of the cyber security domains is user education. It's a part of the security lifecycle, and it's all about getting people to understand the importance of security.
Training
Awareness
Cyber Security Table-Top Exercises
8. Security Operation
Security operations is the team that keeps systems running and secure, monitoring them for incidents and responding to them when necessary. They also update security processes and policies as needed, ensuring that all the technology is up-to-date and working properly. Security operations personnel are responsible for knowing all aspects of their organization's cybersecurity program—from policy to technology—so they can respond quickly when an attack occurs or a vulnerability must be patched.
Vulnerability Management
Active Defense
Incident Response
Security Operation Centers
SIEM
Threat Hunting
9. Physical Security
Physical security is a broad category that includes all measures of preventing any unauthorized access to people or property.

10. Career Development
As strange as it may sound, career development has also been included as a cyber security domain. The intense demand of qualified cyber security professionals requiring a good education, skills and experience makes this domain an invaluable asset to the industry.
Certifications
Conferences
Self-Study
Peer Groups
Coaches and Role Models
Training
11. Security Architecture
Security architecture is the design of the security policy and strategy of an organization and is quite broad in scope. These are all security-related categories that must be addressed when designing your application's architecture.
Network Design
Secure System Build
Cryptography
Security Engineering
Access Control
Cloud Security
Container Security
Endpoint Hygiene
Data Protection
Cybersecurity Domains: The Big Picture
When all the cybersecurity domains are brought together in this layout.
As you can see, it doesn't matter if you call them cyber security focus areas, categories, tiers, or domains, they all mean the same thing.
So, the next time you hear anyone speaking about cyber security domains, just make sure you understand the context behind the discussion.
If you enjoyed reading today's article please subscribe here.
Interested in More…
Cyber Security vs Information Security?
Why Take the Security+ Certification?
Ways to Work in Cyber Security Without a Degree!
---